I apologize that I haven't been posting more, but it has been a hell of a week. I haven't forgotten you, my scores of adulating fans.
This haiku takes us all the way back to October 19, 1987, Black Monday, when the Dow lost 508 points (22%), dropping it to 1,739. Look how far we've come my baby...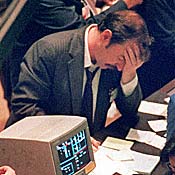 Precipitous drop
portfolio insurance
mass wealth destruction.
-JDW